Towards the end of my summer, I had the chance to visit Portland, Oregon.
I started the journey in Ann Arbor, Michigan. Took the train to Chicago. And then went from Chicago to Portland over 46 hours.
But that is the story for another blog, another day.
I loved Portland, and my friend Dam and I did pretty much everything we could squeeze in within the four days we had: The Zoo, The Rose Garden, The Japanese Garden, The Pink Trolley, Powell's City of Books, Saturday Market, Multnomah Falls...
Dam and I in front of the Multnomah Falls
But there was one thing on my list that I didn't get to:
The Beverly Cleary Sculpture Garden
+ taking a walking tour around her neighborhood. I even bought a book to help make the experience complete!
I was only going to get the Ramona book, but I believe very book needs a friend.
And it was ANNE... how could I resist?
I almost stole the book versus paying for it, since it says it technically isn't illegal.
And so, because I missed getting to trace the steps of Beverly and Ramona as I wanted to, the moment I returned to Houston I headed to the public library and checked out every single book set on Klickitat Street. Not the literary pilgrimage I had in mind, but taking a walk down memory lane and revisiting an author who resonated with me as a child was rather satisfying.
I don't remember the first Beverly Cleary book I read. But I do remember the one I loved the most: Muggie Maggie. Since I moved to Nigeria after the first semester of 2nd Grade, I missed cursive instruction and felt Maggie's despair for having to learn cursive matched the despair I had of trying to learn in on my own (I still cannot actually write in cursive, although my print has a connectivity to it that tries to mimic that lost handwriting art).
Cleary's book that I read the most: Henry Huggins. The first book she wrote set on Klickitat Street. It was one of the books that was shipped with us during our trans-Atlantic move to help make up our impressive childhood library. And since we didn't get new additions too often, it was one I revisited time and time again.
As I re-read it in August, I couldn't help smile at Henry finding Ribsy and trying to bring him home on the bus. Or the tale about the guppies (where I first learned that not all fish make good pets), and how Henry accidentally dies Ribsy pink with talcum powder but wins a prize in the dog show for this mistake! I quickly read through the remaining Henry Huggins books, and then moved on to Ramona.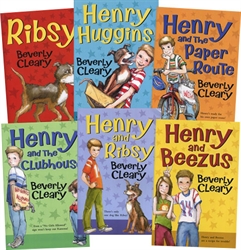 Ramona is perhaps Cleary's most famous character. And I supposed I must have read all of them as a child too, because there were moments and scenes that read like they were a memory of my own. Ramona is quite the determined little girl. Strong-willed, stubborn, and as Henry and her sister Beezus (nickname for Beatrice; also Ramona's doing) would say, an absolute pest.
Ramona and Beezus appear in all six of Henry's books, but Henry slowly disappears as a main cast member of Klickitat Street with each new book in Ramona's series. The last I remember of him is being a crosswalk monitor was Ramona enters kindergarten.
What's great about the Ramona books (and why they potentially outshines the Henry Huggins series) is that she grows with each book. While you don't have to read the eight books in order, we get to follow Ramona from Pre-school to Kindergarten, to 1st Grade...all the way to 4th Grade. We see her struggles with new teachers, new friends, with an older sister (and eventually a baby sister). Even though I am no longer in the same life stage, there was something comforting about seeing the worries and struggles of being that age validated and explored.
And even though I often wanted to give Ramona Geraldine Quimby (and occasionally responsible Beezus, too) a good spanking for her behavior, she is a pretty good role model for a little girl to have. I love that she isn't too girly and a bit of a tomboy. That she is creative and has a huge imagination. That she loves her family fiercely (even if sometimes she isn't great at showing it).
And while these are definitely kid books, I loved that there was enough adult humor mixed in, too. Adults would smile or looks amused at the children's antics, and while the joke was lost on the kids, it was nice to read it as an adult and know exactly what that smile or laugh was about.
I loved that in the series, we see Mr. Quimby go back to school so he can get a better job. I loved the honesty of exploring what it looks like when money is tight in a family, or the fact that there are adults who aren't always fond of children. And even the joys of wedding, and the sorrow of a death in the family.
A lot of life is covered on Klickitat Street, and both Henry and Ramona are excellent guides to help children (and even adults) navigate the adventures and emotions that come along with life. The books are short, and easily accessible (each chapter almost works as a stand-alone short story... perfect for a bedtime reading). And I think boys and girls would love hanging out with both kids.
I loved a lot of things about the Henry Huggins and Ramona Quimby books, and one day, when I have kids I plan to hang out on Klickitat Street once again with them.